Obtaining a bachelor's college graduation cap and gown shouldn't be struggle.
University graduation cap and gown graduation sets are available for bachelor's degrees, associate degrees, and career college graduations.
Most often individuals purchase their graduation gown sets in black,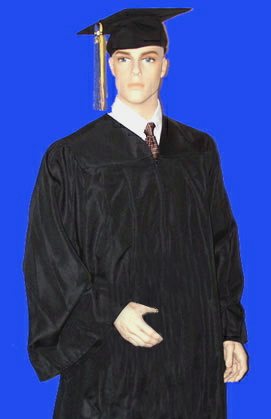 however they are available in most colors as well.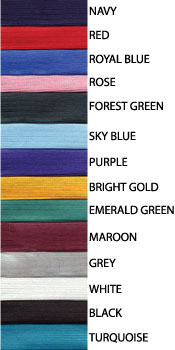 Just pick out the color of your graduation gown (the same color will be used for your academic cap) and let us know what color tassel you like.
You have the choice of a single color, or a two-tone tassel.
| | | |
| --- | --- | --- |
| | | |
| Academic cap and tasssel | | Two tone tassel with mortarboard |
The cost of individual university (bachelor's) cap gown set is just $48.50. That includes the cap and tassel, graduation gown, and a year date charm that goes on the tassel.
If you are ordering multible sets of caps and gowns, please contact our office, to see what discounts may be available.
Accessories (graduation gifts) to compliment your graduation gown include honor stoles and honor chords.
| | | |
| --- | --- | --- |
| | | |
| | | |
| Honor Stoles with "honor" imprinted on the stole. $12.75 | | Honor Chords, Gold, @ $8.75 ea |
We can also special make "rental quality" caps and gowns (black or in color) upon request, designed for theater, schools that wish to keep their gowns to reuse each year, or faculty members with bachelors degrees. Contact our office for more details.
sales@universitycapsandgowns.com